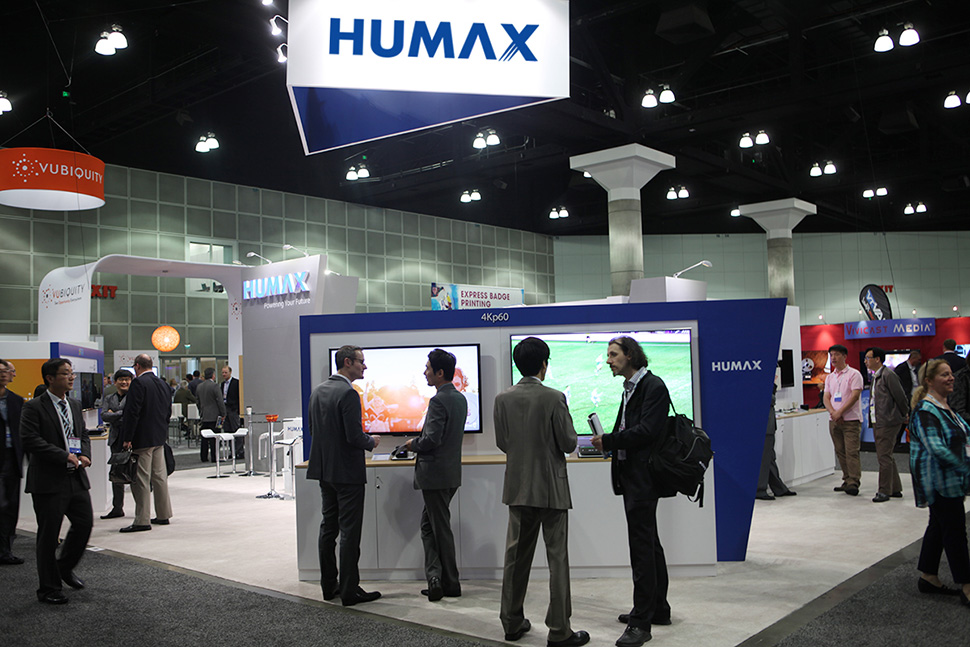 Humax Americas Will Debut 4kp60 10-bit Server Gateway and Client STB at NCTA, Booth # 915
LOS ANGELES, Apr 29, 2014 — NCTA Cable Show — Humax, a leading global set-top box company, today announced that it will be showcasing UltraHD set-top boxes (STBs) at NCTA's The Cable Show 2014, which takes place at the Los Angeles Convention Center beginning on April 29, 2014. This new offering will allow global content providers to begin real-world deployments of UltraHD-capable home gateways and STBs, bringing superior speed, clarity, texture and color of 4K content to viewers around the world.
The new configuration from Humax integrates Broadcom's flagship BCM7445 UltraHD video decoder and BCM7252 IP-Client system on a chip, support for 4K60p 10-Bit color with RDK 2.0 and HTML5 UI. The hybrid STB has built in DOCSIS 3.0 cable modem with BCM33843 enabling 2-way interactive user experiences on high speed internet.
"As a leading set-top box provider, Humax has integrated Broadcom's advanced UltraHD silicon into our next-generation set-top boxes," said Albert Son, President of Humax Americas. "We are committed to delivering the most advanced TV innovations and viewing enjoyment to consumers anywhere in their homes. Our multiple demonstrations of the latest technologies at The Cable Show illustrates our continued dedication."
Humax will also unveil broadband solutions based on DOCSIS and WiFi technologies. These configurations cover the wide-ranging requirements of residential gateway (RG) solutions to demanding commercial grade WiFi applications. Additional 4K demonstrations and other showcased Humax products will include multiple combinations of the latest technologies in various design concepts, including RDK 2.0, WiFi 802.11ac, and OTT platforms.
Humax will demonstrate its UltraHD set-top boxes, technologies and other broadband solutions in Booth #915.