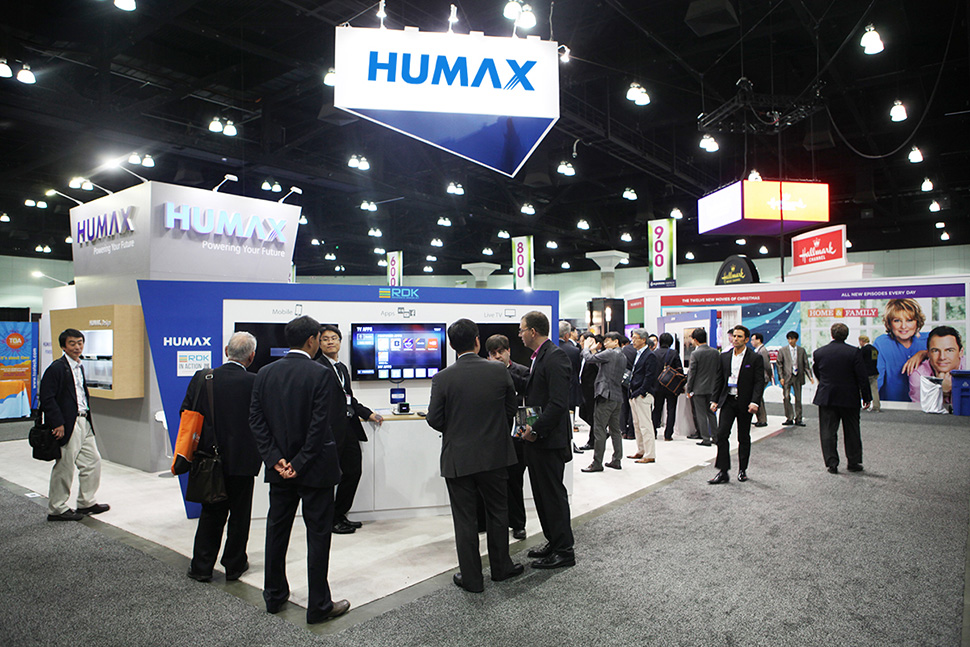 Humax Devices Feature MoCA and WiFi Technology for New Connected Home TV Experience in Brazil
NCTA Cable Show – Humax today announced that it has been selected by NET Servicos de Comunicacao S.A. as the lead set-top box (STB) manufacturer for two new high definition (HD), MoCA 2.0-enabled, two-way interactive cable STBs, as well as Residential Gateway (RG), featuring DOCSIS 3.0, eMTA, and 3×3 Dual-Concurrent 802.11ac WiFi. The STB and Residential Gateway devices are powered by the latest generation Broadcom silicon, with NAGRA Open TV providing the conditional access and middleware solutions for the STB.
NET Servicos is a leading multi-services company operating in the pay TV and broadband Internet segments in Brazil. NET Servicos is currently the largest cable television provider in Brazil and in all of Latin America based on the number of subscribers and domiciles with cable, with more than 6 million pay TV subscribers in 100 cities throughout Brazil, including São Paulo and Rio de Janeiro, the country's two largest cities.
"Net Servicos is committed to delivering powerful new HD interactive connected TV experiences along with world class broadband services to our subscribers. This exciting platform will be in place for the 2014 World Cup and the 2016 Summer Olympic Games," said Demerval Martins, Procurement Director, NET Servicos.
"Humax is pleased with this new opportunity in the Latin American cable arena, marking our foray into advanced Hybrid STB technology, expanding our data product offering to the market, and allowing NET Servicos to provide their subscribers with the latest innovations in broadband, telephony and home networking solutions," said Albert Son, President of Humax Americas. "With the very latest in DOCSIS 3.0, MoCA 2.0, and 3×3 Dual-Concurrent 802.11ac WiFi technologies, combined with an intuitive, interactive user experience, NET Servicos subscribers will enjoy truly revolutionary TV services."
"By awarding Humax the lead position in Residential Gateway and next-generation Set Top Boxes, NET Servicos represents an exciting new area for further expansion, as we see significant demand for enhanced data, multiscreen and hybrid technologies in Brazil. Humax could not be happier with this major engagement with NET Servicos," said Charles Hong, Managing Director of Humax do Brasil.